Kawartha Chrysler Dodge Jeep RAM FIAT in Peterborough, ON treats the needs of each individual customer with paramount concern. We know that you have high expectations, and as a car dealer we enjoy the challenge of meeting and exceeding those standards each and every time. Allow us to demonstrate our commitment to excellence!

Come see why we're the #1 Chrysler Dodge Jeep Ram FIAT  Volume Retailer in Peterborough and the Kawartha Region!


NEW Cars, Trucks, SUVs and Vans in Peterborough

USED Cars,Trucks,Vans and SUVs in Peterborough


And remember, We're just a stroll west of the Parkway!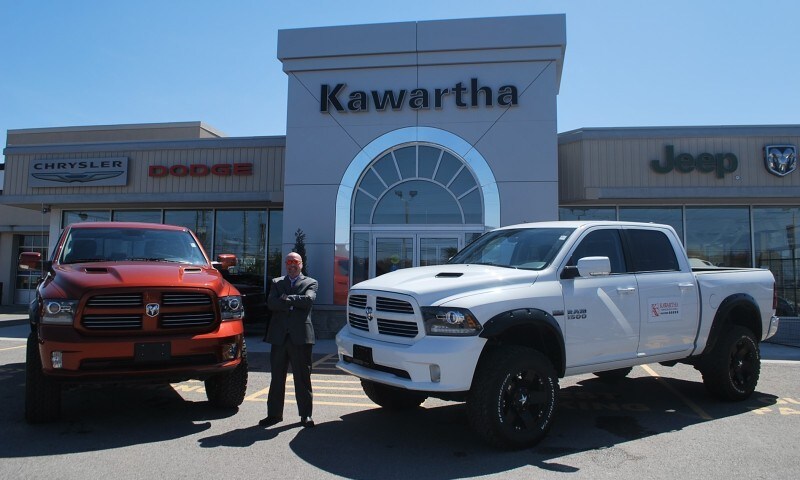 Used car, used truck, used minivan used cars, used SUV pre owned,Ford Chevy Chevrolet  Dodge Charger Avenger Calibre, Challenger Nitro Grand Caravan Journey Viper SRT 8 SRT 4 Chrysler, 200 300 300C 300M Sebring convertible Town & Country Jeep Compass Grand Cherokee Liberty Patriot Wrangler Wrangler, Unlimited GM GMC Buick Pontiac Oldsmobile Saturn Cadillac Hummer  Nissan Toyota Kia Honda Mazda Lindsay Buckhorn, Peterborough Toronto GTA Pickering Ajax  Clairington Region Bancroft Lakefield Ennismore Bowmanville Oshawa Durham, Region Port Hope Cobourg,  Belleville Trenton Kingston Ottawa Chrysler 200 chrysler 200 convertible chrysler 300 chrysler 300c dodge ram 1500 ram 2500 ram 3500 dodge durango dodge, grand caravan dodge caliber dodge avenger dodge dart jeep wrangler jeep wrangler unlimited jeep compass jeep patriot, jeep cherokee jeep overland jeep grand cherokee fiat 500 fiat 500c fiat abarth ram truck diesel truck srt 8 cherokee, srt 8 300 srt 8 challenger srt 8 charger call of duty MW3 Honda civic accord toyota tundra tacomma volkswagen golf jetta nissan sentra pro 4x4 versa titan mazda 3 mazda 6 cargo van kia sol rogue pontiac solstice jimmy chevrolet chevy, ford focus E 250
F 150 GMC, dodge dart PICK UP TRUCK IMPORTS CAR PARTS SERVICE OFF MAKE SEBRING 200 convertible chrysler, 300 chrysler 300C RAM dodge ram 1500 ram 2500 ram 3500 dodge durango dodge grand caravan dodge caliber dodge avenger, dodge dart jeep wrangler jeep wrangler unlimited jeep compass jeep patriot jeep cherokee jeep overland jeep grand cherokee fiat 500 fiat 500c fiat abarth FIAT ram truck diesel truck srt 8 cherokee srt 8 300 srt 8 challenger srt 8, charger CAHRGER SRT8 call of duty MW3 honda civic accord toyota tundra tacomma volkswagen golf jetta nissan sentra, pro 4x versa titan mazda 3 mazda 6 cargo van kia sol rogue pontiac solstice jimmy chevrolet chevy ford focus E 250, F150 GMC PICK UP TRUCK IMPORTS CAR PARTS SERVICE OFF MAKE GOOD ON GAS GOOD ON FUELUSED CARS GOOD USED CAR QUALITY CARS call of duty jeep mw3 Used car, USED CARS Used cars Peterborough - Used Cars in Peterborough - Used Cars Peterborough Ontario - Used cars for sale Peterborough Ontario - Used cars for sale Peterborough Ontario - Used Cars Peterborough Ontario -  Used Cars Sale - Certified Pre-Owned Vehicles - Used Jeeps - Used Car Loans - Bad Credit Car Loans - Lowest Price Used Cars - Used Car Financing - Used cars Oshawa - Used cars Napanee - Used cars Bowmanville - Used Fords - Buick - Chrysler - Used Trucks for Sale - Second Hand Cars Peterborough - Used Cars Online - Best car dealer Peterborough Ontario - Best car dealer Peterborough Ontario - best used cars Peterborough - best used cars Port Hope - best used cars Cobourg - best used cars Kawartha - best used car loans Peterborough - best used car loans Peterborough - best used car loans Kawartha